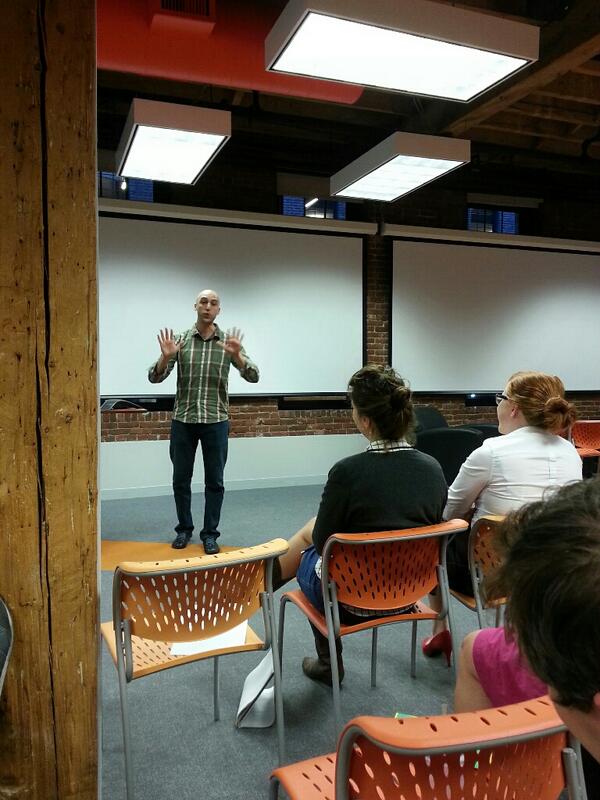 We've all been there: You want to improve your speaking skills, whether it's public speaking or just sounding better on the phone. You know HubSpot has a Toasmasters group (named "Toastspot," naturally) and it sounds like a great idea, but everything after that is a little hazy.
Let's clear up some of that haze. Here's how to get started with Toastspot in 4 easy steps.

1) Fill Out a Landing Page
This is HubSpot afterall so why shouldn't step 1 involve a Landing Page:
Yes I'm Interested in Becoming a Toastspot Member!

What does filling out this Landing Page mean? Well, it tells us you're interested in learning more about Toastspot, and thinking about attending your first meeting. The Toastspot officers will get an email that you've signed up and that day you'll get a message from one of them (email, HipChat, or someone might even walk over to your desk and shake your hand to welcome you to Toastmasters).

We will also put you into a friendly nurturing campaign giving you some additional information about how Toastspot works.

2) Come to a Meeting!
Seriously, just come to a meeting. Toastmasters meets every other Thursday downstairs in Benioff (with a Speech Marathon one Friday every month during lunch). Check out the Toastspot signup sheet to see which next Thursday evening is right for you.

If you're nervous, don't worry about speaking at all. When you're ready, there will be plenty of opportunities, but when you actually step up in front of the group is all up to you. In fact, if the mood strikes you while at your first meeting, raise your hand during the Table Topics section and you can volunteer to speak impromptu for 1-2 minutes.

3) Sign Up for a Role (when you're ready)
The main focus of Toastmasters is having the opportunity to get up in front of a group of people to speak, but that speaking opportunity doesn't have to be a prepared speech. Sure, you can sign up for one and begin your path to becoming a Competent Communicator. Though maybe you're not quite ready for that. It's OK.
Every Toastspot meeting involves lots of smaller but vital speaking roles. This is not a complete list, but just a taste to help you get an understanding of how meetings work (and maybe give you inspiration to sign up for one):
Humorist/Thought of the Day: This speaking role gets the meeting started with an inspirational thought or a funny joke or story. This is a quick speaking opportunity; 1-3 minutes. A very low pressure opportunity to step up in front of the group for the first time, perhaps?


Word of the Day: Before our speeches start, this person stands up and chooses a word for speakers to attempt to use. As part of this role, you pick the word, provide a definition and use it in an example sentence. All-in-all, this should take 1-2 minutes. Another quick, low pressure role. It is fun when speakers find a way to fit the Word of the Day into their talks; always get a cheer from the audience.


Speeches: Every Toastspot meeting involves the main speeches portion. Usually there will be 3 members ready to give one of ten speeches on the track to becoming a "Competent Communicator." Each speaker is assigned an evaluator to provide friendly feedback. Once you're an official member, we will get you a Toastmasters booklet so you can learn more about the goals for each speech and get started with your first.


Table Topics: Table Topics is about developing your ability to organize your thoughts quickly and respond to an impromptu question or topic. The Topicmaster will get up and give a theme for this meeting's Table Topics and explain the instructions. Maybe speakers will pull a piece of paper from a hat, or pull a random object from a bag, or some other creative device. Then we take volunteers to get up and speak for 1-2 minutes on whatever topic you're randomly assigned. There's no pressure here; no evaluations. Just a great opportunity to overcome your nerves and speak off the cuff briefly.


Timer: Part of public speaking is staying within your allotted time. The timer will keep track of everyone's speaking length and provide color warnings to the speaker as time approaches. You will also have an opportunity to stand up and let each speaker know how on time they were.


Ah/Uh Counter: Crutch words -- everyone has them. Ah, uh, like, so, ya know. This person is responsible for counting each speaker's various crutch words and letting the speaker know the count during the evaluation section.
4) Keep coming to meetings!
Once you've come to your first meeting, don't stop. Toastmasters is like going to the gym...wait, you've heard that one before? But it's true! The more meetings you attend, the more opportunities you can take to stand up in front of people to practice your speaking, the better you will become.

We look forward to seeing you at our next Toastspot meeting!