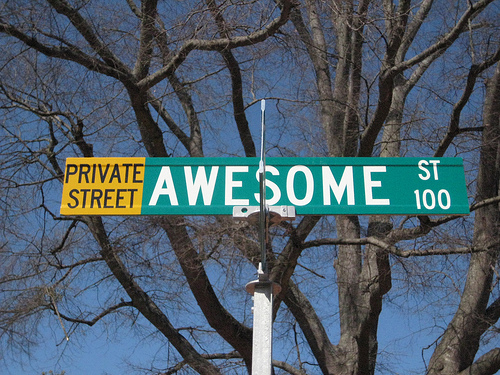 ToastSpot, the HubSpot chapter of Toastmasters International, started in October 2011 as what was probably the first professional development opportunitiy for HubSpotters. Since then it's grown to be so much more and we have dozens of HubSpotters showing up to each meeting and special events like contests and field trips.
Why should you join ToastSpot? How about these 5 awesome reasons:
1. Improve your speaking skills.
Whether you're in marketing, sales, services, development, or any other department, Toastmasters is *the* way to improve your speaking skills. If nothing else, this is a great outlet to come practice speaking, work on specific skills from organizing your speech to leveraging vocal variety and visuals to delivering a persuasive, inspiring speech.
A number of HubSpotters are practicing to prepare for speaking engagements outside of HubSpot, but aside from that, each and every one of us has speaking opportunities in our day to day jobs - from weekly team meetings to monthly Smervices to sales and services calls with prospects and customers.
2. Develop your leadership skills.
In addition to the communication track of Toastmasters, which aims to develop your speaking skills over time, there are a lot of leadership opportunities - from being an officer (elected annually) who makes this club a reality to taking a role like the Evaluator or Table Topics Master at any meeting.
Taking a leadership role at ToastSpot improves your leadership skills (such as leading a meeting or organizing an event or building a club) that you can use in your day-to-day job, while also getting you noticed by HubSpotters across the company. Building connections and getting noticed by HubSpotters across the company is a great way to pave the way for future career opportunities at HubSpot.
3. Get internationally recognized certifications.
Once you become an official member, you receive a book of speaking projects (speeches centered on developing specific speaking skills) and once you complete them, you receive an internationally recognized Competent Communicator certification. Similar to the Competent Communicator certification, as an official member you can complete leadership projects and receive the internationally recognized Competent Leadership certification. These two certifications are great to put on your resume and take with you beyond HubSpot.
4. Meet fellow HubSpotters.
While all of these other benefits are great, probably the #1 reason I love Toastmasters is for the opportunity to meet fellow HubSpotters. At the current size and pace of growth of the company, it can be hard to meet coworkers outside of your specific team. Toastmasters brings together HubSpotters from almost every department - sales, services, marketing, and product.
5. Participate in the External Speaking Program.
On top of building your speaking skills for all of the times you speak in front of a group already, you can volunteer to participate in the external speaking program. We've partnered with the PR team (that places HubSpotters for speaking engagements) to train and nominate new potential speakers for external speaking opportunities. HubSpot gets a lot of requests for speakers, and we can't supply our executives for smaller audiences, and at the same time, we've heard many HubSpotters express interest in taking such speaking engagements. By becoming a ToasSpot member, doing a number of speeches to demonstrate your ability, you can get placed in the rotation for future speaking opportunities of varying size and audience. Learn more about the external speaking program here.
Have other reasons that got you to join ToastSpot? Share them in the comments!
Photo credit: moonlightbulb